Cardano price may decline by 5% due to increasing overhead pressure. After a 35% decline from its high of $0.3793 on July 12. The cost of Cardano is attempting a comeback rally over longer timescales.
The likelihood still favors a decline, and ADA may drop 5% to test the $0.2415 support floor.
The bearish view will be invalidated once the altcoin registers a three-day candlestick close above the $0.3082 mark.
According to the chart below, Cardano (ADA) price has made three consecutive higher highs and is attempting a recovery rally on higher timeframes. Bulls need to exert more pressure overhead to impede the token's upward velocity if the trend is to continue.
Cardano bears eye a 15% slump
The Cardano (ADA) price recovery rise appears limited amid increasing overhead pressure. It encounters the first barrier at $0.2710, with several layers above it signifying levels of supplier congestion. The supply zone is an order block with prices ranging from $0.2907 to $0.3292, and the 50-day Exponential Moving Average (EMA) at $0.2907 is essential.
While momentum continues to wane, the Relative Strength Index (RSI) is still below the 50 mark and moving down. This is followed by the Awesome Oscillator (AO), which is behind and is still in the negative range.
With this, the price of Cardano is anticipated to decline and might perhaps hit the support floor at $0.2415. In the worst situation, the fall might persist and possibly reach $0.2200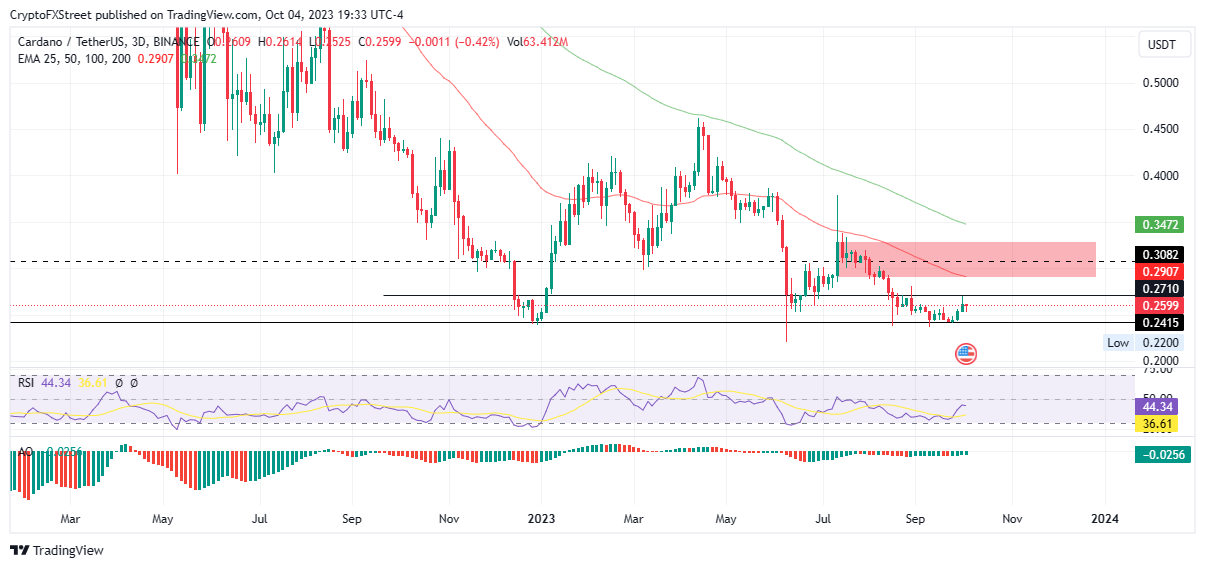 Data from the on-chain aggregator "IntoTheBlock's Global In/Out of the Money" (GIOM) metric shows that many supply barriers abound above for Cardano bulls and will likely prevent ADA from achieving its upside potential. Based on this on-chain metric, multiple supplier congestion zones are present, with the first occurring between $0.2642 and $0.2945, where 251,880 addresses bought approximately 4.01 billion ADA tokens at an average price of $0.2795.

However, renewed buyer interest and momentum could send Cardano's price above the immediate $0.2710 hurdle, clearing the path into the supply zone at the $0.2907 level. A decisive three-day candlestick close above its midline at $0.3082 would invalidate the bearish outlook. Above and beyond, ADA could break out from the supply zone and flip it to a bullish breaker before tagging the 100-day EMA at $0.3472. Such a move would denote a 50% climb above current levels.
Bitcoin, altcoins, stablecoins FAQs
What is Bitcoin?
Bitcoin is the largest cryptocurrency by market capitalization, a virtual currency designed to serve as money. This form of payment cannot be controlled by any person, group, or entity, eliminating the need for third-party participation during financial transactions.
What are altcoins?
Altcoins are any cryptocurrency apart from Bitcoin, but some also regard Ethereum as a non-altcoin because it is from these two cryptocurrencies that forking happens. If this is true, Litecoin is the first altcoin, forked from the Bitcoin protocol and, therefore, an "improved" version.
What are stablecoins?
Stablecoins are cryptocurrencies designed to have a stable price, with their value backed by a reserve of the asset it represents. To achieve this, the value of any one stablecoin is pegged to a commodity or financial instrument, such as the US Dollar (USD), with its supply regulated by an algorithm or demand. The main goal of stablecoins is to provide an on/off-ramp for investors willing to trade and invest in cryptocurrencies. Stablecoins also allow investors to store value since cryptocurrencies, in general, are subject to volatility.
What is Bitcoin Dominance?
Bitcoin dominance is the ratio of Bitcoin's market capitalization to the total market capitalization of all cryptocurrencies combined. It provides a clear picture of Bitcoin's interest among investors. A high BTC dominance typically happens before and during a bull run. In which investors resort to investing in relatively stable and increased market capitalization cryptocurrencies like Bitcoin. A drop in BTC dominance usually means that investors are moving their capital. And profits to altcoins in a quest for higher returns. Which generally triggers an explosion of altcoin rallies.