This Graph Supports Solana. When Should I Sell My Ethereum for SOL? Looking at the performance in the weekly chart, Ethereum (ETH) has outpaced Solana (SOL) for the past two years. However, the candlestick configuration of the SOLETH chart on the weekly chart has led one technical analyst on X to predict that this will change.
Will SOL outperform ETH in 2024 and 2025
The analyst known as "CryptoGodJohn" on X, who shared a screen grab, is upbeat and claims that at spot rates, now may be the "right" time for traders to switch their ETH for SOL before the next leg up that will drive SOL higher in the following two years.
We'll have to wait and see if this works out. Looking at price charts, it is clear that the direction of least resistance is northward.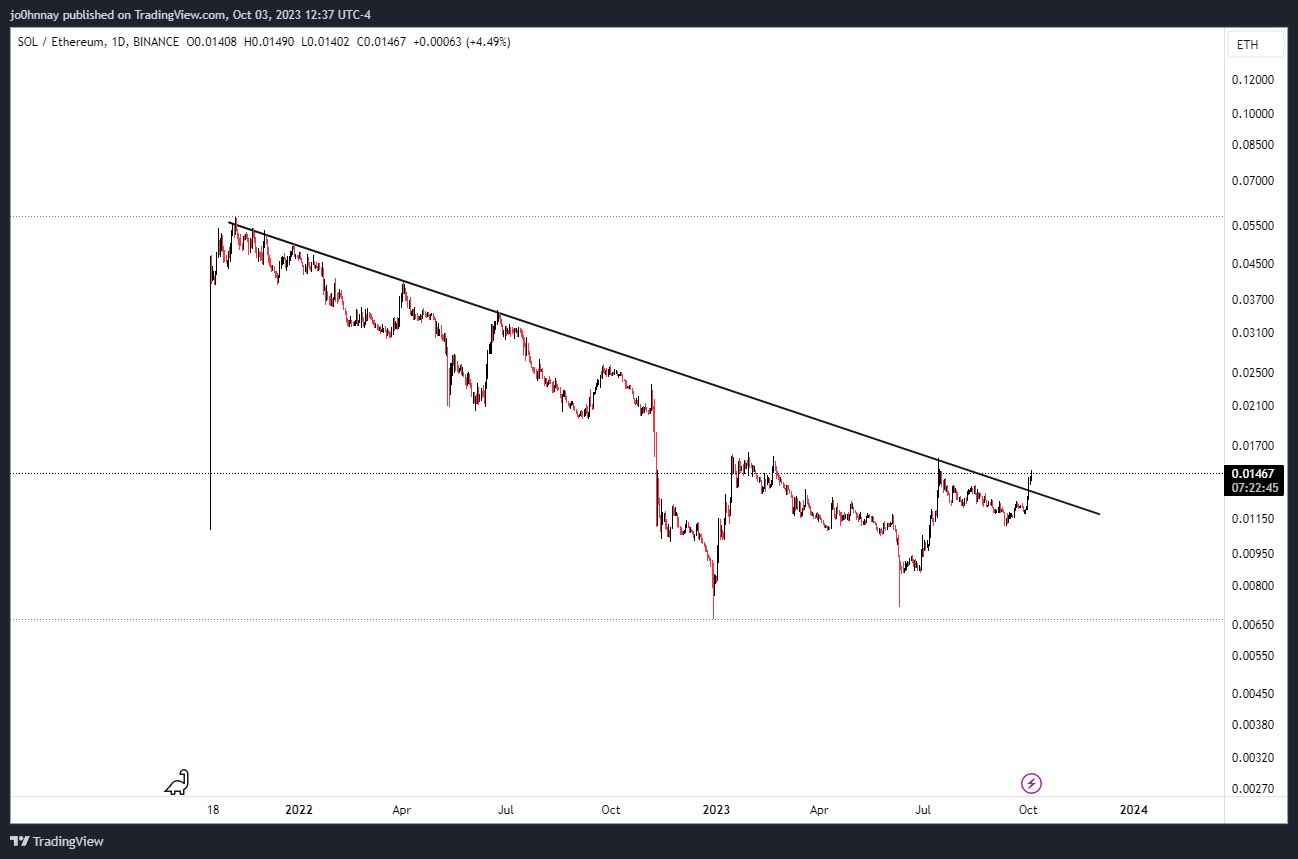 SOL is currently up 71% versus ETH from June at the time of writing. Zooming in even closer reveals that SOLETH prices are balancing on the edge of critical resistance levels. Despite the low trading volumes, which cannot be compared to late Q2 2023, the sentiment is starting to change in favor of SOL bulls. The year's second half's rapid expansion might be making a statement.
The SOLETH is liquidating at 0.0134 ETH, which was last tested in July and January 2023. Bulls from mid-July will be validated if buyers push harder, lifting the coin above the 0.0162 ETH mark on increasing trade volumes. Then, SOL might extend gains up to the 0.0265 ETH level before reversing course and moving back into the September 2022 region.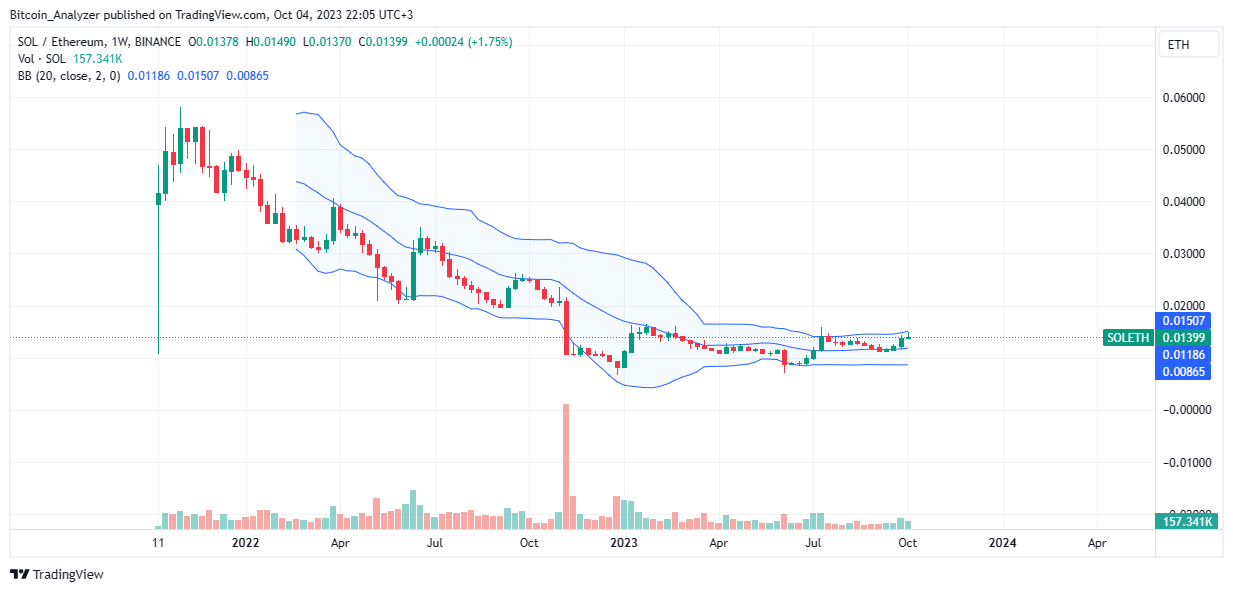 However, despite traders' optimism, it is unclear how prices will respond at spot levels immediately. The SOLETH in the weekly chart is currently experiencing rejection. The long upper wick in the current bar suggests a potential sell-off in shorter time frames.
Will Solana Bulls Stop the Q4 2022 Post-FTX Collapse Free-Fall?
The early November 2022 bear candlestick is the benchmark for SOLETH pricing. The bear candlestick's broad range and large trading volume suggest that SOL was quickly converted to ETH during anxiety.
FTX, a formerly well-known Bitcoin exchange, shut down around this period. In 2021, the Solana Foundation received a $100 million investment from FTX and Alameda Research, the trading arm of FTX CEO Sam Bankman-Fried.
According to reports, FTX and Alameda Research possessed 50 million SOL. The neighborhood was concerned that FTX declaring bankruptcy would likely result in the sale of more than 50 million SOL to pay creditors.
Whether SOL will reverse the post-FTX trend in the upcoming sessions
Conclusion
In conclusion, your investment objectives, risk tolerance, and faith in the future of these blockchain networks all play a role in determining if you should sell your ETH for SOL. Solana is a compelling alternative due to its exceptional performance and distinctive features, but impending changes to Ethereum may level the playing field. The best course of action for your cryptocurrency portfolio may ultimately be a balanced one.