SHIB's Price May Remain Dormant Despite Rising On-Chain Metrics. Shiba Inu (SHIB) has seen a 198.4% surge in 7-day zero balance addresses on its network. According to an analyst from the cryptocurrency trading and analysis channel ClayBro. Who announced in a video posted on YouTube today. Even though this is a noticeable increase, the analyst claimed there is little likelihood that SHIB's price will increase due to this indicator.
The ClayBro expert added that given the possibility that these wallets are not actively participating in network transactions, an increase in wallet addresses without SHIB is not a noteworthy development.
The expert did not, however, completely rule out the prospect of these wallets doing network transactions in the future.
A closer examination of SHIB's on-chain
SHIB's Price May Remain Dormant Despite Rising On-Chain Metrics. Analytics reveals a decline in new wallets being created on the network. The expert estimates that the number of new wallets on the SHIB network has decreased by about 21%.
The number of active addresses has expanded in the meantime. Although an increase in transactional activity on the SHIB network may be positive, the analyst noted that this activity can include both purchase and sale. He, therefore, predicted that the increase in this particular indicator might not result in a rise in the price of the meme coin.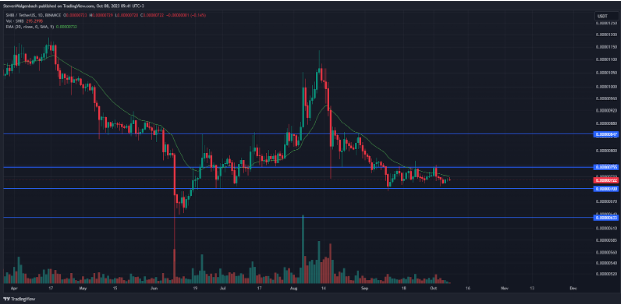 Technically speaking, SHIB was trading below the 20-day EMA at publication. The altcoin has also spent the last three weeks consolidating between $0.00000700 and $0.00000755.
SHIB's Price May Remain Dormant Despite Rising On-Chain Metrics. SHIB may ultimately break out of this consolidation phase and ascend toward $0.00000847 over the next several weeks if it closes a daily candle above the 20-day EMA line, which was located at $0.00000732. On the other hand, if SHIB breaks through the consolidation channel's bottom level, it can drop to $0.00000633.
General disclaimer: The information in this article is being provided solely for educational and informational purposes. The report does not offer any type of advice, including financial advice.