Stablecoins Suffer 18-Month Decline, Regulatory Uncertainty at the Helm. According to DefiLlama, stablecoins have had an 18-month fall, with a 35% decrease in market valuation since May 2022. The industry has faced more significant regulatory uncertainty and scrutiny from regulators worldwide during this time.
According to CCData, a company that analyses cryptocurrency, the $331 billion in stablecoin trade volume on controlled exchanges decreased by 28.4% in September. Since July 2020, this was the lowest monthly total.
The Decline's Underlying Factors
The market cap of stablecoins as a whole has decreased by 35% as a result of TerraUSD's collapse. The market cap currently stands at over $124 billion after peaking at $189 billion in May 2022.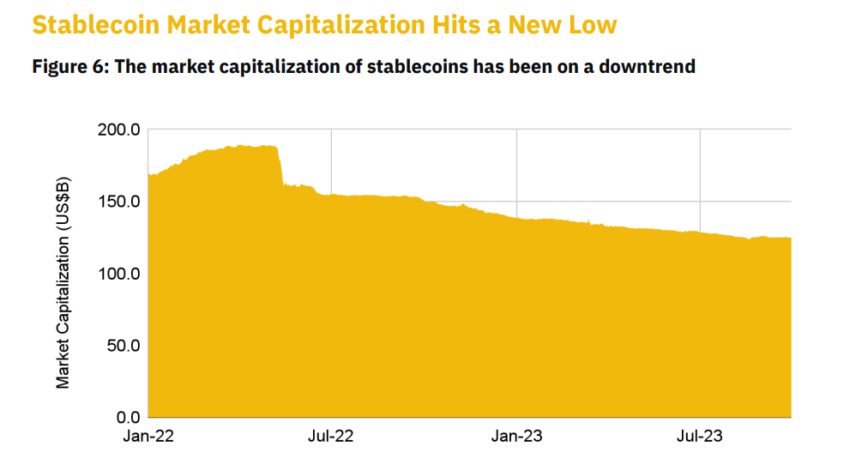 Many industry analysts cite regulatory uncertainty as a significant barrier to the expansion of these assets. Because the upcoming Markets in Crypto Assets (MiCA) laws planned to take effect in 2019, Binance warned last month that it might have to delist several stablecoins from the European market.
Continue reading: The 9 Best Crypto Trading Demo Accounts.
The exchange claims that none of the market's stablecoins presently has the EMI licenses necessary for their activities in the area.
Legislators are also developing rules to direct the industry in several nations, including the U.S. and Hong Kong. Industry watchers predict that these regulatory initiatives will suppress the stablecoin industry and have significantly contributed to this downward trend.
Stablecoins continue to be essential components of the cryptocurrency ecosystem, according to Binance Research, despite declining market capitalization.
USDT Remains Dominant
Despite the broader decline in the stablecoin market, USDT remains the dominant player in the sector. USDT's market cap is $83.54 billion, three times higher than its closest rival, USDC, which stands at $25.017 billion. This firmly establishes USDT's dominance, with a market share of about 67.3%, according to DeFillama data.
On October 6, Tether's USDT celebrated its ninth anniversary, with CTO Paolo Ardoino describing it as a technology revolutionizing finance. Arduino further highlighted the importance of these assets, saying, "Central banks are looking at stablecoins as the future of their digital money (CBDCs)."