Why Bitcoin Price Can't Sustain Its Rise: 3 Reasons Explained. At this time, the cost of one bitcoin is $27,400. The cost exceeded $28,000 on October 5 before dropping once more. Investors haven't given up hope despite this volatility. Why, then, does the price of BTC stop increasing?
Why Are Cryptocurrencies Not Rising?
The price of BTC rose by more than 5% at the start of the week, reaching $28,600. However, sentiment changed when the Ether Futures ETF ended with a ludicrous $2 million trading on its debut day. This demonstrated how little risk appetite exists in the markets. If the BTC ETF is legalized, may the same thing take place? This is a question that investors are starting to ask.
Prices are challenging to recover for three key reasons.
Macroeconomy
On October 2, Fed official Barr predicted a slowdown in the economy due to rising interest rates. He also stressed that the current policy's consequences have not yet been felt to their full extent.
The expectation of a slower interest rate increase on November 1 quickly increased in response to the comments made by numerous other members. On October 3, at 2.47%, the real yield on US 10-year Treasury bonds, which considers inflation, hit a 15-year high. DUE TO THIS DEVELOPMENT, the US Dollar Index (DXY) rose to its highest level in ten months.
Volumes
Unlike spot markets, monthly Bitcoin futures contracts typically trade at a modest premium, indicating that sellers request a higher price to postpone settlement. As a result, there is often a 5–10% annual premium on BTC futures contracts. Contango is the term used to describe this circumstance in other markets.
The BTC futures premium is moving away from a neutral price of 5% and is currently declining. This scenario suggests that there isn't enough demand in the futures market.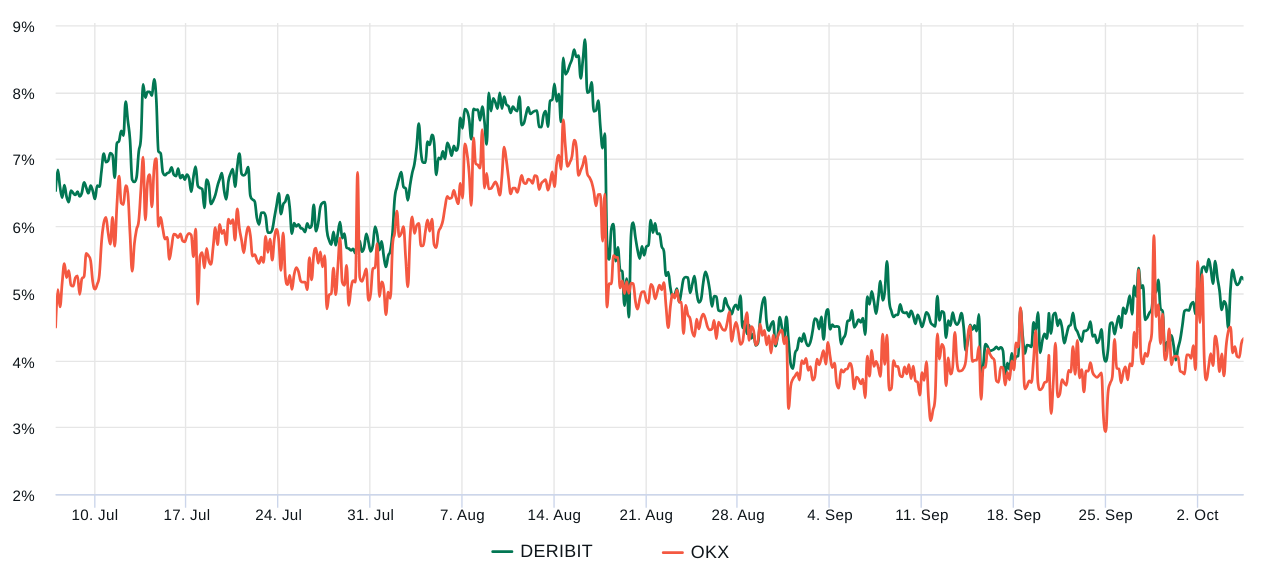 However, spot market volumes have reached record lows for 2020. Before May, significant US market makers, including Jane Street Group and Jump Trading, began to leave the market, which decreased volumes. This is evident when considering the volume of power in the monthly chart.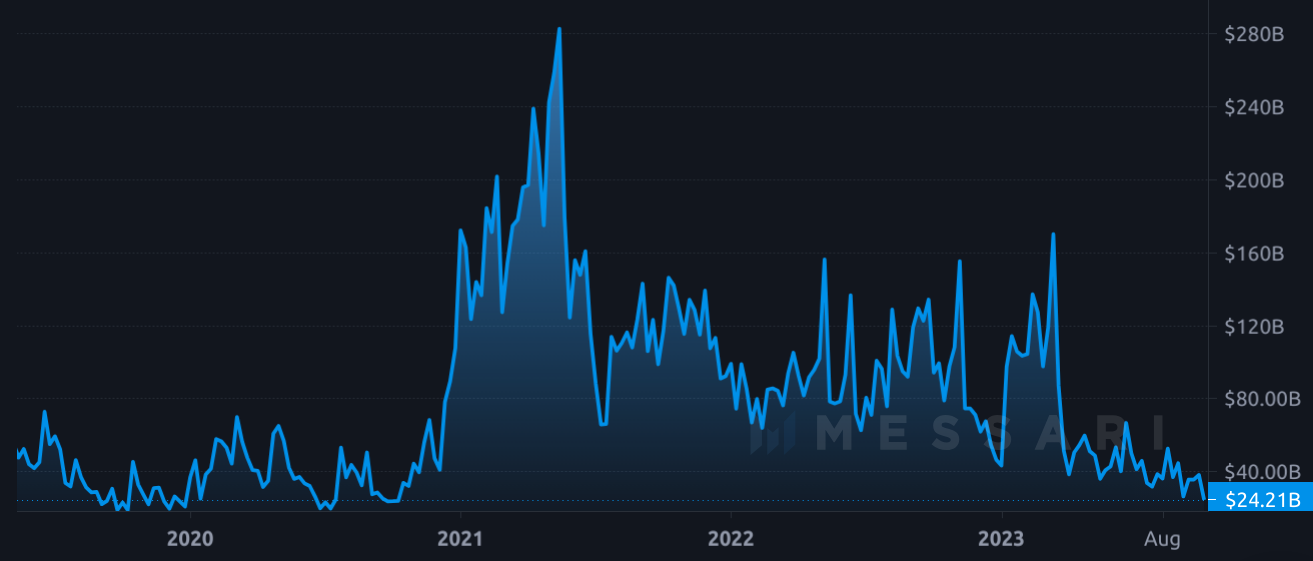 Market makers have said they withdrew from the market because of regulatory uncertainties. However, there have long been reports on social media that Jump has been involved in some dubious transactions.
Spot Bitcoin ETF
The likelihood that the US Securities and Exchange Commission would approve Bitcoin ETF contributed to Bitcoin's 68% increase in 2023. Notwithstanding the current delays, the notion that spot ETF approval will not be granted in 2023 has gained mainstream.
On the other hand, Monday's volumes for the ETH ETF were a complete letdown. From a larger standpoint, even if the Spot BTC ETF is approved, this disregard may persist.
In addition, the negative premium remains at 19% despite a favorable court ruling for converting Grayscale Bitcoin Trust into a spot Bitcoin ETF. Investors would immediately buy in to swiftly bring the negative premium to a neutral level if they were optimistic about the GBTC conversion. They knew the conversion would result in a more than 19% profit.
The SEC has yet to file an appeal of the GBTC ruling despite having until October 10 to do so. They stated that they were still thinking about the choice. They might let the convert if they cannot develop another defense.
In conclusion, the price of bitcoin might not be able to sustain itself above the $28,500 barrier level due to these short-term unfavorable factors.
The agonizing bear markets might end if the Fed decides to ease early because it anticipates that it will muck things up shortly, if the SEC gives in to its obstinacy, if the market regains its confidence, and if institutional and individual investors start investing again. Unfortunately, this is the case right now.
Disclaimer: This article's information is not intended for investing.
Advice. Before making any trades, investors should be aware of the extreme volatility and associated risks of cryptocurrencies and should do their research.